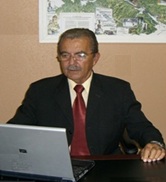 Mr. Schenone has been a vital part of the Phenix Energy Group for many years. He was instrumental in getting Phenix in place in Central America working with the heads of government in all potential routes and has worked with the team helping to bring the project on line.
He has a strong technical background with training and education in engineering and information technology. His many years with IBM in South and Central America has brought him into contact with many powerful and influential people and his relationships have provided Phenix with the ability to walk into the offices of people who would otherwise be inaccessible.
He continues his work for Phenix as the Director of Government Relations working in Central and South America.