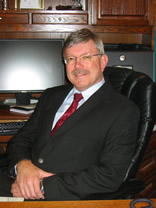 Mr. Austin has more than 35 years of experience in successfully planning, designing, constructing, and managing all phases of complex energy projects, both in North America and worldwide. Having served as a corporate officer of both interstate natural gas pipeline companies and major pipeline construction contracting firms, he is adept at assembling and managing multi-disciplinary teams to meet customer expectations and objectives, and has successfully planned and developed large-diameter pipeline projects through a variety of challenging terrain, in both on-and off-shore environments, in the U.S., Canada, South America, the Far East, and the Middle East.
As president of a major North American pipeline contractor, he prepared and directed scores of successful construction bids, winning individual contracts with values over $200 million. As an executive officer of interstate U.S. gas companies, he supervised the preparation of detailed construction bid specifications and bid packages, the award of millions of dollars worth of material contracts and construction bids, and the successful development of mainline, lateral, compressor station, and meter station facilities. He also has extensive experience in directing large project teams, with peak construction efforts involving thousands of workers deployed simultaneously at multiple construction sites. Throughout all phases of project development, he also managed budgets; supervised quality assurance/control; and directed engineering, safety, right-of-way, permitting, construction and environmental compliance functions.
Mr. Austin has a keen comprehension of the effort required to successfully plan and build energy projects, cost-effectively and efficiently, in today's regulatory climate, and brings his decades of unique experience to bear in overseeing the successful completion of multi-disciplinary aspects of large-scale energy developments, both in upland and marine environments.