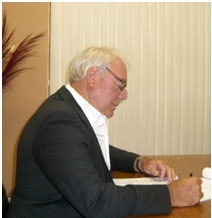 Mr. McNaney is Vice President and Project Superintendent of Phenix Energy Group. With forty years in the pipeline business he is in good company with the other members of the Phenix Energy Group team. With his experience and impeccable credentials, he brings tools and knowledge of inestimable value to the Phenix Atlantic to Pacific Pipeline Project.
Starting at the bottom in 1970, he diligently worked his way up to the top. In a very short time, he reached Construction Superintendent where he found his niche. Regardless of the title, he has been singularly effective in delivering projects on time and within budget throughout the world.
In addition to his native Canada, he has brought his superlative skills to bear in the nations of China, Qatar, Spain, Ecuador, Russia and Cuba. Billions of dollars and thousands of miles of pipeline have passed through his hands on the way to delivering product where and when it was needed.
At the end of 2009 he retired and despite entreaties from former associates, he resisted going back to work until Gerald Leroux and Phenix Energy Group showed him the Phenix Pipeline Project. He is fully on board now and Phenix is even stronger with Mike McNaney as a member of the executive management team.